O'DONNELL'S AUTO & TRUCK REPAIR
Auto & Light Duty Truck Repair & Maintenance, Fleet Repair & Maintenance, & Heavy Duty Truck Repair in Lansing, Michigan & the Surrounding Area for 35 Years
COMPLETE CAR & TRUCK SERVICE
AUTO REPAIR SERVICES
HEAVY DUTY TRUCK REPAIR
M-DOT INSPECTIONS
HYDRAULIC REPAIR & DIESEL REPAIR
BRAKE REPAIR & SUSPENSION REPAIR
FLEET VEHICLE SERVICES
TRANSMISSION REPAIR
AUTO MAINTENANCE SERVICE
TIRE SALES & SERVICES
ASE CERTIFIED
LOCALLY OWNED & OPERATED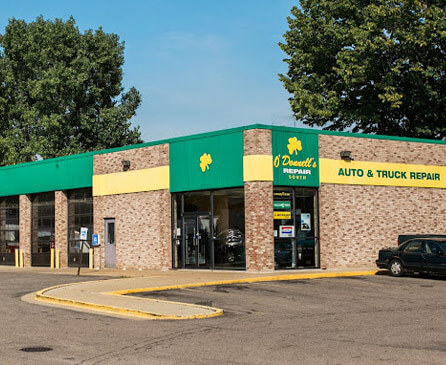 O'Donnell's Auto and Truck Repair began as a mobile service out of the trunk of a car in 1988 and has since grown into the most trusted auto, truck and fleet vehicle repair shop in Lansing. Our team of nine ASE certified technicians continue to provide the highest quality auto repair and light, medium and heavy duty truck repair for all types of vehicles, in our 12,000 square foot shop. No matter what issue you're facing with your vehicle, our mechanics have the tools and knowledge to get the job done right. From routine maintenance, including M-DOT Inspections. oil changes, tune ups and other factory scheduled car services, to brake jobs, complex engine repair or transmission replacement, we really do it all. When your daily driver or fleet vehicle requires automotive repair in Lansing, don't hesitate to contact us to request an estimate or an appointment at our nearby auto shop.
Ever since our founding as a Lansing mobile mechanic, O'Donnell's Auto and Truck Repair has been committed to providing the highest quality car repair service for our friends and neighbors in Lansing, Wheatfield TWP, Williamstown TWP and the neighboring Michigan communities. Our full service Lansing car repair shop is equipped with the latest diagnostics and repair technology, ensuring our ASE certified mechanics have access to the tools necessary to provide expert auto repair for any foreign or domestic make or model. Be sure to give us a call at (517) 882-3400 or stop by our shop at 5504 South Pennsylvania Avenue the next time your car is due for preventative service or is giving you any type of trouble. We'd be more than happy to offer a comprehensive estimate for the cost of auto repair in Lansing for your daily driver, commercial truck or other fleet vehicle. Thanks for choosing O'Donnell's for all your light and heavy duty automotive service needs.


Carla Jones

10 months ago

Excellent customer service. They were prompt with diagnostic testing and contacting me with findings. I love the fact that they provided timely estimates and upfront pricing. I was very pleased with the work they performed on both of my vehicles and would entrust them with my vehicles in the future. Thanks O'Donnell's!

Kelsey Gonzales

11 months ago

I LOVE these people. They are always super kind and very understanding. They are willing to help you with your car needed with a amazing smile. I definitely recommend.

I had an emergency where my sunroof was stuck open and a storm was on on the horizon. O'Donells was able to squeeze me in last minute and save the day! Very friendly staff! So thankful for them!

They did an amazing efficient job on my corner eye struck! Thought I was gonna be out of business for 2 weeks and it fixed it in 2 hours!

Dalton Lorenzon

a year ago

I'm not big on leaving reviews, but with the great experiences I've had with O'Donnells and their abilities to turn our fleet vehicles back over to us, I felt that was needed. Not only do they effectively communicate updates to me, they're also very friendly and informative when making suggestions. As subject matter experts, I can tell that O'Donnells takes pride in their hard work. Jenny has been awesome with communication and she's done great to keep us informed every step of the way. This level of professionalism has played a key factor in deciding to stay with O'Donnells for all of our 3rd party maintenance needs! O'Donnells will take care of you, just go see for yourself!

They are a great place to take your vehicle. They do great work and the staff is professional and courteous.

These guys are awesome. I had never used them before and they like all other shops that are good and reputable were busy. But these guys worked me in and diagnosed my F250 found it to be something simple they fixed it and very inexpensively got me back in the road . These guys are awesome thanks O'Donnell's

Everyone was great. Tim was awesome to work with. Didn't try to upsell me on needless service, even when the problem I brought my car in for ended being something else. Will be back.

Annie Blackburn

a year ago

They were very nice and respectful when we dropped off our Journey, they got it done in a timely manner so we could take it on vacation. I would recommend this place to all my friends and relatives.

Thor is great & the manager Jennifer is amazing!! I haven't received this level of customer service in a really long time. This shop was so honest, trust worthy and transparent!! Thank you Thor for your kindness and attention to detail & Jennifer for your dedication to customer satisfaction and having a peoples first culture approach.

Michael Mitchner

more than a year ago

I've been using O'Donnell's service for a few years for my motorhome(s). During that time I have been pleased with the service. Recently, after returning home from the road I needed an oil change and it slipped my mind until it was time to hit the road again. I called on Thursday morning hoping to get an appointment that day or the next. They were able to squeeze me in on Friday morning. It may be a small thing, but it was appreciated as I was able to leave for my trip on time.

John Rodgers

more than a year ago

These guys are awesome. I went in for an alignment today and they did a great job and were very friendly and courteous. I would highly recommend them to anyone and I will definitely return

Cory Weber

more than a year ago

O'Donnell's Auto and Truck Repair is the best auto service center in Lansing! I've had work done on many of my vehicles over the course of 14 years and they always exceed my expectations! They are always on-time and on-budget and very informative throughout the process.

Simon Yen

more than a year ago

We were traveling in our motorhome and started hearing a loud engine noise. We were over 2000 miles from home so we Googled for a truck repair shop close by. After talking to a couple of shops and they refused to see us, I called O' donnell's and the person on the phone said we would see you as soon as you come in. We arrived, they diagnosed the problem and Matt, the owner said let's just do it and they fixed it. We were out of there in 2 hours with our problem fixed at a reasonable price. Thank you so much.
Click to view full testimonial